Reno & Tahoe Gay Resource Directory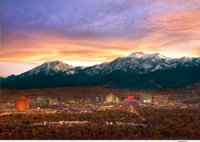 "America's Adventure Place" is how some describe the Reno-Tahoe area. That said, you'll find plenty of action in Nevada's westernmost territory.
Reno's downtown, highlighted by the Truckee River Whitewater Park and Riverwalk District, continues to be revamped, and now includes a wine walk and beer crawl to help fill two Saturday afternoons a month. When the big events hit the city, such as Hot August Nights (classic cars), Street Vibrations (motorcycles) and the National Championship Air Races (planes), Reno-Tahoe rises to a whole new level of fun. With celebrity-chef restaurants, great shopping, world-renowned events, and a blossoming downtown district, Reno is one of northern Nevada's most diverse destinations.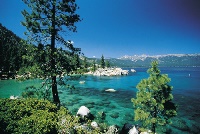 Then there's Lake Tahoe, more than 70 miles of majestic shoreline with recreation opportunities galore in and around the clear, blue body of water. South Lake Tahoe has all the casinos, world-class acts and nightlife Nevada is known for, while all around the lake outdoor activities abound: hiking, biking, golfing, and water sports in the warm months, and world-class skiing (downhill and cross country), snowboarding, and snowshoeing in the winter. The Lake Tahoe Music Festival and Lake Tahoe Shakespeare Festival head the list of many intriguing Tahoe events. Hey the stats don't lie – Lake Tahoe was the number one destination booked by travelers on Orbitz.com in a recent six-month period, and TripAdvisor ranked it the number-one U.S. destination in 2008.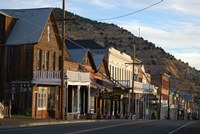 If history is your fascination, be sure to visit Virginia City, with a main street seemingly out of the 1800s. Carson Valley's quaint towns of Genoa, Minden and Gardnerville are ripe with Nevada nostalgia, like the Genoa Bar and Saloon, Nevada's oldest watering hole. In Carson City, the state capital, the Kit Carson Trail historical walking tour is available, and the city is home to the Nevada State Museum, along with landmarks such as the Carson Mint at the Nevada State Museum and the silver-domed State Capitol.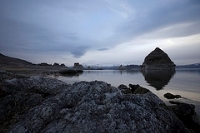 In addition to Lake Tahoe, Pyramid Lake, north of Reno, is one of Nevada's liquid gems. Completely within the Pyramid Lake Indian Reservation, the lake is the largest remnant of ancient Lake Lahontan. Visitors will find some of the best fishing in Nevada and Anaho Island, home to a large colony of American White Pelicans. If isolation is what you desire, the Black Rock Desert – home to the unique counterculture event, Burning Man – is a more rugged playground. Beware of the summer heat and, if it rains, a mud-soaked playa.
The Reno-Tahoe Territory is comprised of Carson City; Carson Valley (Gardnerville, Genoa, and Minden); Gerlach; Lake Tahoe, including North Lake Tahoe (Incline Village) and South Lake Tahoe (Stateline); Reno; Sparks, Verdi; Virginia City; and Wellington.