Strap on your hat and pull on your boots for a visit to northern Nevada's Cowboy Country, where jeans are the fashion norm and nobody stands on ceremony. In this region, Old West hospitality is the rule.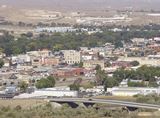 When you're in Elko, stop by the Western Folklife Center, the host of the annual National Cowboy Poetry Gathering, which celebrated its 25th anniversary in 2009. Basque culture also plays an important role here. The hearty Basque cuisine – steak, beans, salad, fries and rich red wine – is served family-style at several Elko restaurants.
The Northeastern Nevada Museum tells a story of pioneers and natural history in the region. For information about the Elko area, check out the Elko Chamber of Commerce Visitor Center, which is housed in Sherman Station, a turn-of-the-century, log-style ranch house.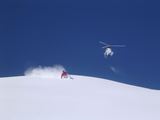 The Ruby Mountains, also known as America's Alps, rise majestically southeast of Elko. Follow State Route 227 from Elko through Spring Creek to the Lamoille Canyon Scenic Byway, a 12-mile drive that curves upward through glacier-carved turns. You can hike and ride horses on the Ruby Crest Trail, and fishing and bird watching are superb at the Ruby Lake National Wildlife Refuge.
Off-highway vehicle trails afford miles of ATV action around Ruby Valley and areas near Wells and Deeth. If you want to explore stunning mountains and crystalline lakes the cowboy way, try riding horseback in the Jarbidge Wilderness north of Elko. Several ranches offer Western-style vacations.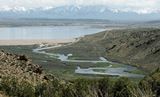 Anglers pull trout and bass from Wilson Reservoir, South Fork and Wild Horse state recreation areas. In winter, ice fishing is popular at these three reservoirs. For a unique winter experience, try Ruby Mountain Heli-Experience, based in Lamoille.
In addition to off-road opportunities and wildlife-viewing areas, West Wendover on the Nevada-Utah border has five major casinos with fine dining and lodging, and the Peppermill Concert Hall books top-name entertainment. The Nevada-Idaho border town of Jackpot also boasts casino action and entertainment.
Many communities along Interstate 80 serve as base camps for hunters and explorers. Supplies are available – and so are hotels and motels in case you want to sleep in a bed instead of a sleeping bag. After touring a gold mine near Battle Mountain and Carlin, you can sit down for a family-style meal featuring steak, lamb or jumbo prawns in one of Winnemucca's four great Basque restaurants.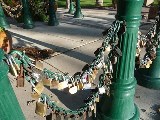 If you want to stretch your legs on your drive, you can stop at Rye Patch State Recreation Area for a picnic beneath tall cottonwoods. If you're feeling romantic, lock your love in Lovelock by fastening a lock on the never-ending chain at Lovers Lock Plaza, or simply admire the more than 1,000 locks that adorn the plaza. Activities here are just as rich and varied as the heritage and backcountry. Revel in the unique mix of outdoor and cultural activities and take a long trip to experience all Cowboy Country has to offer.
The Cowboy Country is comprised of  Battle Mountain, Carlin, Denio, Elko, Jackpot, Jarbidge, Lamoille, Lovelock, McDermitt, Wells, West Wendover, and Winnemucca.
You won't find much traffic as you drive over the mountain passes and across the sagebrush-covered valleys of Nevada's north central region. In fact, U.S. 50 from Fernley to Ely is known as "The Loneliest Road in America," so designated by Life Magazine more than 20 years ago.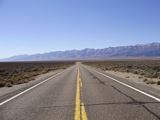 Today, you still can earn a certificate proclaiming you survived Highway 50—a tongue-in-cheek marketing campaign launched by the Nevada Commission on Tourism and the region's tourism officials—by collecting validations in your Highway 50 Survival Guide from businesses in towns along the route. If you keep your tank topped off and carry a few essentials—your MP3 player, munchies, and a sense of adventure—you'll enjoy your journey as well as survive it.
The region is also known as Pony Express Territory because U.S. 50 roughly follows the old Pony Express route. And although the highway is pretty empty, there's plenty to do. Near Fallon you can visit the ruins of Fort Churchill, an 1860s-era U.S. Army base built to protect settlers, and Lake Lahontan, a reservoir where you can water ski, boat, and camp. In spring and fall, you can watch the thousands of migratory birds make a stop at Stillwater Wildlife Refuge.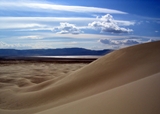 Just east of Fallon is Sand Mountain, a single enormous sand dune. Complete with spots to camp in tents or in trailers, it's now a destination for ATVers and sandboarders. Since U.S. 50 aligns with the 1860s Pony Express trail, it's not surprising to find ruins of several Pony Express stops. At Grimes Point, see petroglyphs left by ancient people who lived on the shores of the ancient Lake Lahontan.
In Austin, a once-bustling mining town, you can take a walking tour, shop for turquoise jewelry, or grab an outstanding milkshake at the Toiyabe Café. In Eureka you can see and tour several restored buildings, including the 1879 courthouse, still used by county government, and the Eureka Sentinel Museum, before checking into a modern motel. You might even have the chance to catch a concert or play at the wonderfully restored Eureka Opera House.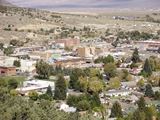 Farther east is Ely where the Ely Renaissance Society has commissioned murals that celebrate the eastern Nevada town's history. You can step back in time at the Village, where artifacts recreate the early days, and take a ride on a steam train at the Nevada Northern Railway, which runs right from the doors of the State Railroad Museum and the East Ely Railroad Depot. You'll find the McGill Historical Drug Store Museum in the old Nevada Consolidated Copper Company town of McGill, north of Ely on U.S. 93.
Farther east on U.S. 50 lies Great Basin National Park, where you can hike Wheeler Peak, the second highest in the state. Then, at the bi-state Border Inn you can play slots and have a beer and a burger in Nevada, then sleep in your motel room in Utah.
The Loneliest Road doesn't seem quite so lonely by the time you've reached the Nevada/Utah state line!
The Pony Express Territory consists of Austin, Baker, Dayton, Ely, Eureka, Fallon, Fernley, and Silver Springs.