Downtown venue to celebrate diversity with performances from Kiesza, Vassy, Manila Luzon, Bob The Drag Queen, Cazwell and more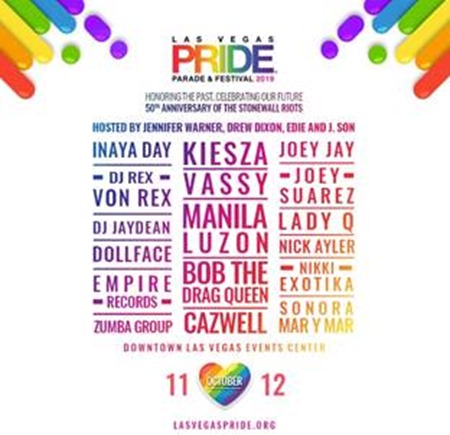 LAS VEGAS – Downtown Las Vegas Events Center is bringing the heat to this year's PRIDE Festival on October 11-12 with exhilarating acts from Kiesza, Vassy and Cazwell as well as performances by RuPaul's Drag Race stars Manila Luzon and Bob The Drag Queen. The yearly celebration promises good eats, great music and an evening of entertainment hosted by Jennifer Warner, Drew Dixon, Edie and J.Son.
The two-day event will also include entertainment by Inaya Day, DJ Rex Von Rex, DJ Jaydean, Dollface, Empire Records, Zumba Group, Joey Jay, Joey Suarez, Lady Q, Nick Ayler, Nikki Exotika and Sonora Mar Y Mar.
In addition to the elaborate lineup, the event will also house:
A delicious selection of food trucks
Pop-up drag shows with some of the country's top performers
Over 100 vendors with PRIDE merchandise
An all-ages "Family Fun Zone"
An animal lovers' pet parade
18 and over "After Dark" celebrations
Doors to the event open at 5 p.m. on Friday, October 11. PRIDE after dark (18+) will go from 10 p.m. until 1 a.m. Festivities will kick off the following day at noon and PRIDE after dark (18+) will begin at 8 p.m. and end at 1 a.m.
$15 weekend pass tickets to the event are on sale now and can be purchased at www.dlvec.com, while tickets at the door will start at $20 per day.
Canadian singer and musician Kiesza continues to reach success throughout her career in the dance-oriented music industry with her top hits "Hideaway" and "Take Ü There" with Skrillex. Kiesza's vibrant house music touches upon other genres like R&B and EDM and is sure to get the dance party started.
Vassy is an Australian singer, songwriter and record producer and her song "We Are Young" rose to No. 1 on the Billboard Dance Charts, making her the first Australian to go No.1 with a solo debut single. Certified RIAA Platinum and Gold, the recording artist has also collaborated with famous musicians David Guetta, Afrojack, Tiesto and more.
Rapper Cazwell has produced three albums since 2006 and has collaborated with an impressive list of musicians such as Richie Beretta, Justin de Nobrega and more. The artist tours every year playing to festivals around the world and is well-known for his tracks that combine rap and electronic genres, including his hit song "Ice Cream Truck."
To top it off, stars from RuPaul's Drag Race will attend this year's PRIDE extravaganza. Season three runner-up Manila Luzon and season eight winner Bob The Drag Queen will grace the Downtown stage to show off their high-energy dancing and lip-singing skills.
For updates, please visit www.dlvec.com or www.lasvegaspride.org.